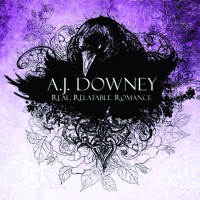 A.J. Downey
Contemporary Romance, Romantic Suspense, Paranormal Romance, Erotic Romance
A.J. Downey is the internationally bestselling author of The Sacred Hearts Motorcycle Club romance series. She is a born and raised Seattle, WA Native. Finds inspiration from her surroundings, through the people she meets, and likely as a byproduct of way too much caffeine.

She has lived many places and done many things though mostly through her own imagination… An avid reader all of her life it's now her turn to try and give back a little, entertaining as she has been entertained. She lives in a small apartment in a small neighborhood with a larger than life fiancé and two cats.
To read without reflecting is like eating without digesting.
Edmund Burke